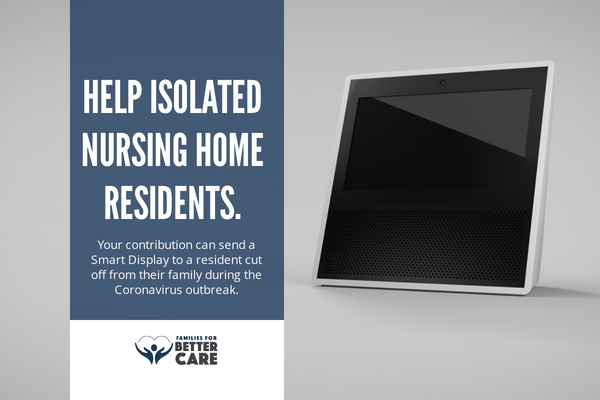 COVID-19:  Isolated Nursing Home Residents Need Our Help!
March 20, 2020
Earlier this month, federal officials suspended all visitation to nursing homes in an effort to prevent residents, and staff, from being exposed to COVID-19.
Residents are now isolated from their families and friends. But we've found a great way to help them stay connected.
Families for Better Care just launched a campaign to raise money for purchasing and sending Smart Display devices (such as an Amazon Echo Show, shown above) to as many nursing residents who need them.
What's great about Smart Displays is that they fit nicely on residents' nightstands and can easily be positioned to protect privacy rights of others. But the best thing they offer is two-way, visible communication between residents and their families using simple voice commands.
THE NEED IS GREAT
Right now, there are roughly 1.5 million Americans who live in nursing homes, many who live on fixed incomes, or some form of state assistance, and just can't afford these devices.
Would you please consider a donation to help us purchase and send a Smart Display to a nursing home resident? Please know your contribution is tax deductible and that 100% of every donated dollar will be used exclusively for this effort.
You can make a donation on our GoFundMe account by clicking here.
And if you're unable to make a donation right now, would you please share our campaign with your family and friends? Doing so will help us help residents sooner.
Together, we can make sure nursing home residents and their families stay connected during this crisis.
Thank you for your consideration.
Wishing you peace and good health,

Brian Lee,
Executive Director
RECENT POSTS
To Jab or Not to Jab? Nursing Home Vaccine Mandate Debate Heats Up
Genesis HealthCare recently announced employees must now get a COVID19 vaccine. Period. Company leaders warned that if staff
Read More