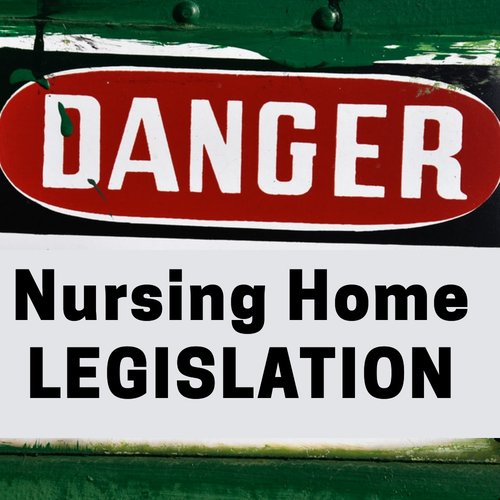 Danger Ahead? Proposal Would Slash Nursing Home Oversight
February 18, 2020
Yesterday, Florida's House Appropriations Committee debated Representative Daniel Perez's (R-Miami) HB 731, a voluminous bill, that, by all appearances, would seem to be a rather innocuous agency proposal.
But nothing could be farther from the truth.
Snuggly nestled into page seven of the 90-page bill (lines 153-175), is a proposed revision that would unravel regulatory accountability of nursing homes that perpetrate the most disgusting, horrific acts of abuse or neglect against elderly residents.
The bill proposes reversing a Florida law that requires state regulators to perform additional inspections at nursing homes that are found to be grossly noncompliant; when the care is so bad, that residents are in "immediate jeopardy" of harm or, who have actually been injured, over and over again by negligent providers. In those cases, surveyors must inspect these homes every six months for two years to guarantee there is no bad care relapse and that no resident suffers further victimization.
But HB 731 want to slash that requirement in half, reducing it to only one year of additional follow-up inspections.
In a back-and-forth with committee members, Representative Perez explained that his proposal would allow state inspectors to focus on the "bad actors" by shifting Agency for Health Care Administration resources away from the unnecessarily targeted "good actors."
While Families for Better Care believes Representative Perez is well-intentioned, that he is genuinely concerned about the welfare and safety of the elderly living in nursing homes, we don't believe HB 731 will do anything to help nursing home residents.
Just the opposite.
What HB 731 does do is try and pragmatize nursing home oversight.
The problem with such pragamitzation is that the distinguishing between the good and bad operators becomes muddied, especially when the reigns are handed over to an agency that is known to have made missteps in the oversight of nursing homes and other long-term care facilities.
The good news is that the Florida Legislature already recognizes that fact, that the "rights of residents are not fully ensured by the rules of ... the Agency for Health Care Administration or the good faith of owners or operators." (F.S. 400.0061)
We're asking Representative Perez, and Senator Aaron Bean (R-Jacksonville), who is sponsoring similar legislation in Florida's Senate, to amend their proposals to require state inspectors to actually double-down on ANY nursing home that grossly abuses or neglects our loved ones--despite their track record.
No free passes. No blind eye. No wink-and-nod oversight.
If AHCA needs more resources, to do their job to protect residents, then the Legislature needs to allocate what's needed to hold facilities accountable, not wipe away oversight. And then, the Legislature must continue its job in holding AHCA accountable in keeping residents safe from harm.
It's the least our elderly deserve.
RELATED ARTICLES:
RECENT POSTS
To Jab or Not to Jab? Nursing Home Vaccine Mandate Debate Heats Up
Genesis HealthCare recently announced employees must now get a COVID19 vaccine. Period. Company leaders warned that if staff
Read More